Fast-tracking the digital revolution: Broadband for Latin America and the Caribbean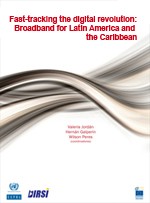 Chapter I.
Broadband and the digital revolution.
Valeria Jordán and Omar de León
Edición : Septiembre 2011
Núm. págs. : 262
Publicado por:

Introducción:
The UN Economic Commission for Latin America and the Caribbean (ECLAC) and the Network "Regional Dialogue on the Information Society" (DIRSI) joined efforts in the production of this book which includes chapters by experts and researchers on information and communications technologies (ICT), particularly broadband Internet.
Based on a holistic approach to the broadband system, the authors analyze broadband expansion in the Latin American and the Caribbean countries, compare their situation to world trends and present policy recommendations in order to fast-track broadband expansion and adoption in the region, fulfilling its potential as a development tool.
Contáctenos por más información
Relacionados